The World's Leading Youth-Serving Nonprofit Advancing STEM Education
FIRST® (For Inspiration and Recognition of Science and Technology) inspires young people to be science and technology leaders and innovators by engaging them in exciting mentor-based programs that build science, engineering, and technology skills, that inspire innovation, and that foster well-rounded life capabilities including self-confidence, communication, and leadership.
FIRST was founded in 1989 in the United States by Dean Kamen, a prolific and successful entrepreneur. By implementing FIRST programs, students (ages 6-18) build a wide set of skills and become future leaders in science and technology.
FIRST Israel was founded in 2004 by Maj. General (ret.) Avihu Ben-Nun, former Commander of the Israel Airforce, in cooperation with the Technion - Israel Institute of Technology.
More than 25,000 students ages 6-18 from all parts of Israel participate annually and are inspired to pursue science and technology in more than 2,000 FIRST teams.
FIRST Core Values
The FIRST Core Values emphasize friendly sportsmanship, respect for the contributions of others, teamwork, learning, and community involvement and are part of our commitment to fostering, cultivating, and preserving a culture of equity, diversity, and inclusion. We expresses the FIRST philosophies of Gracious Professionalism® and Coopertition® through our Core Values:
Discovery
We explore new skills and ideas
Innovation
We use creativity and persistence to solve problems
Impact
We apply what we learn to improve our world

Inclusion
We respect each other and embrace our differences
Teamwork
We are stronger when we work together Fun
We enjoy and celebrate what we do
Impact
The outstanding benefit of the FIRST programs is evident as FIRST Israel alumni are populating the elite tech-units of Israel Defense Forces, the engineering departments of the universities and the Israeli tech industry.

A recent wide study conducted by researchers at Technion's Samuel Ne'eman Institute found that graduates of the program declared the program had a very strong impact on their course of study. The program exposed the students to various aspects of STEM and helped them focus on the pursuit of a particular science or engineering career.

Most graduates indicated that participation in the program improved various capabilities including time management, public speaking, self-efficacy, teamwork, and coping with stressful situations.
"FIRST taught me that the sky is the limit that will-power and persistence are key to success"
FIRST Alumna, Mentor and Volunteer
Impact on Israeli Society
FIRST Israel is spread over the entire country, with participation of all sectors of the population such as Jews including Haredim, Muslims, Bedouin, Christian, Druze, and Circassian.
There are teams in schools, youth-villages, regional councils and even private basements.
The competitions and festivals provide opportunities for all participants to meet, get acquainted, compete and co-operate, creating strong bonds between youth that would have not met otherwise.
FIRST Israel has turned Dimona and Yeruham into powerful robotics hubs, where hundreds of children and youth embark on the path to tech-based careers.
An average of 30% of the members of the Israeli FIRST teams are young women. Many of them hold key leading positions on their teams.
One of ours goals is to significantly increase this figure over the next three years.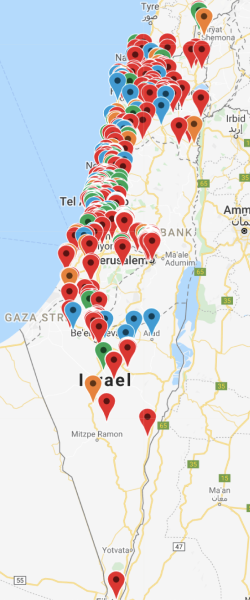 FIRST Israel teams shine globally
Every year FIRST Israel teams participate and excel in global events.
Israeli teams competing at the FIRST Championship have been advancing to the Finals Division named after Einstein.
Last year Ha-Dream Team #3075 from Hod Ha'Sharon was a member of the Winning Alliance on Einstein, and team RoboActive #2096 from Dimona won the prestigious Engineering Inspiration Award.
Most of the Israeli teams made it to the playoffs in their divisions, ranking in the top tier over more than 70 teams from all over the world.
FIRST Israel in Dubai
In October 2019, FIRST Global - Team Israel won the Silver Medal at the Global Competition in Dubai, that was comprised of 191 delegations from as many countries.
Dubai does not recognise the State of Israel, therefore the Israeli team had to receive special security clearance to enter the country, demonstrating that the pursuit of science clearly has no borders. We invite you to advance STEM education and robotics to Israeli youth.
Your support will enable FIRST Israel to offer a greater number of opportunities in both major metropolitan areas and in the periphery.
An investment in FIRST Israel is an investment Israel's continued leadership in high tech and ensures a highly skilled workforce for the future.
For additional information and support please email info@firstisrael.org.il and we will contact you as soon as possible.